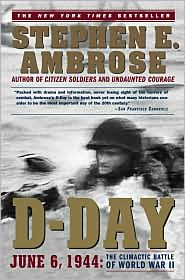 D-Day, June 6, 1944: The Climactic Battle of World War II
I just completed reading this book. Clearly a moving and inspirational story. One thing that struck me was how the nation reacted to the news of D-Day. The President gave a very moving and long prayer on the Radio, all the churches across the country were full of people praying. Stores like Macys, Lord and Taylor etc. all closed so the employees to go home or to church to pray. Contrast this with conditions today where we cannot pray in schools or at a ball game.
More on the book:
Stephen E. Ambrose draws from more than 1,400 interviews with American, British, Canadian, French, and German veterans to create the preeminent chronicle of the most important day in the twentieth century. Ambrose reveals how the original plans for the invasion were abandoned, and how ordinary soldiers and officers acted on their own initiative.
D-Day is above all the epic story of men at the most demanding moment of their existence, when the horrors, complexities, and triumphs of life are laid bare. Ambrose portrays the faces of courage and heroism, fear and determination — what Eisenhower called "the fury of an aroused democracy" — that shaped the victory of the citizen soldiers whom Hitler had disparaged.
Leave a Reply